TransWest Express Transmission Project celebrates construction phase with Cabinet Secretaries and groundbreaking in Wyoming
CARBON COUNTY, Wyo., June 20, 2023 – U.S. Secretary of the Interior Deb Haaland and U.S. Secretary of Energy Jennifer Granholm joined Wyoming Governor Mark Gordon and other local, regional and national officials today to participate in the ceremonial groundbreaking of the TransWest Express Transmission Project – a high-voltage interregional transmission system adding capacity to reliably deliver renewable energy across the Western U.S. power grid.
The groundbreaking ceremony took place on the Overland Trail Ranch, a working cattle ranch south of Rawlins, Wyoming, where the TWE Project's northern HVDC terminal is sited. A community reception followed in historic downtown Rawlins.
The 732-mile HVDC and HVAC TWE Project will provide important new bulk transmission capacity to benefit the entire West. The TWE Project will interconnect with the PacifiCorp system in Wyoming, with the Los Angeles Department of Water & Power and Intermountain Power systems in Utah, with the NV Energy system in Nevada, and with the California Independent System Operator.
"The TWE Project's successful development represents recognition by stakeholders of all kinds and at all levels that collaborating to build a stronger power grid is vital to build a stronger nation," said Bill Miller, president and CEO of TransWest Express LLC. "We deeply appreciate the support we've received from so many people along the way. We are thankful for everyone who celebrated this milestone with us today. Now, we look forward and are focused on assuring the TWE Project's successful construction."
In a news release issued earlier today, Secretary Haaland said the TWE Project "will accelerate our nation's transition to a clean energy economy by unlocking renewable resources, creating jobs, lowering costs, and boosting local economies."
Added Secretary Granholm: "The TransWest Express Project will play a major role in our nation's energy security, ensuring that home-grown clean energy can form the backbone of our electric grid as we rebuild a stronger, more resilient transmission system."
"The groundbreaking event for the TransWest Express demonstrates yet another example of how Wyoming is continuing its energy leadership. Today we celebrate the contribution our wind resources can make, and we are glad to be able to provide energy to primarily California and Nevada consumers, who want what Wyoming has to offer," said Governor Gordon. "Once completed, Wyoming will be home to the largest wind farm in the United States. This will be one more source of energy to complement our all-of-the-above energy approach, from renewables to fossil fuels to nuclear. There is room in Wyoming for all."
TransWest's primary construction partners are Siemens Energy Inc. for the HVDC terminal technology and Barnard Wilson Joint Venture for the transmission line and AC substations. TransWest also is partnering with the International Brotherhood of Electrical Workers and International Union of Operating Engineers.
In April, the Bureau of Land Management, part of the U.S. Department of the Interior, issued its Notice to Proceed for the TWE Project, which was the final federal authorization needed to start construction. Underscoring the national significance of the TWE Project, federal entities identified it in 2011 as critical transmission infrastructure to complete.  
The TWE Project will be the Western power grid's largest transmission addition in decades. It will connect three planning regions in the West, while adding 3,000 MW of high-voltage capacity from Wyoming to Utah and 1,500 MW of high-voltage capacity from Utah to the Desert Southwest (Nevada, California, Arizona). The project also will provide the West with new access to wind-generated electricity from Carbon County, home of America's best onshore wind resources. The TWE Project is expected to be energized in 2027.
Click on the images below to download high-res versions.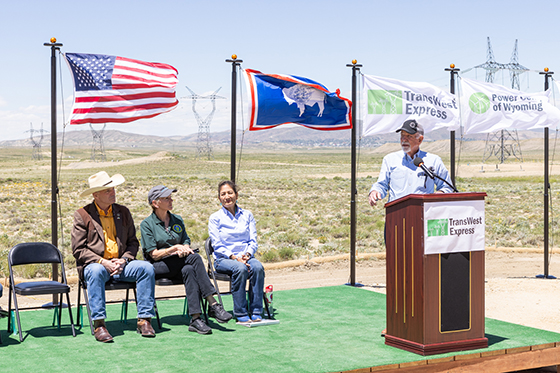 TransWest CEO Bill Miller expresses his appreciation to Wyoming Governor Mark Gordon, Energy Secretary Jennifer Granholm, and Interior Secretary Deb Haaland for joining the TWE Project groundbreaking celebration and for speaking at the ceremony.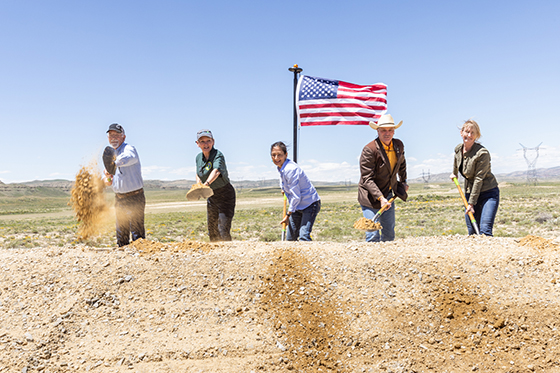 The TWE Project's ceremonial groundbreaking included, from left, TransWest CEO Bill Miller, Energy Secretary Jennifer Granholm, Interior Secretary Deb Haaland, Wyoming Governor Mark Gordon, and TransWest COO Roxane Perruso.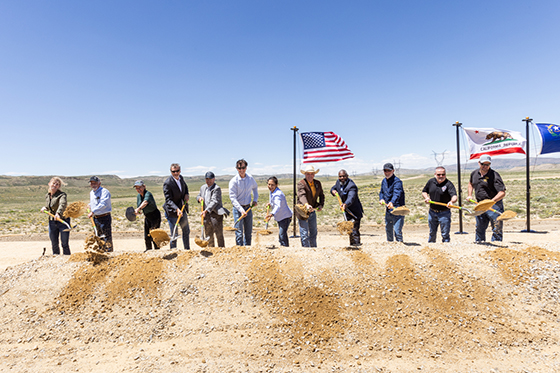 Collaboration and partnerships are key to the TWE Project, including with states, the federal government, labor unions and contractors. From left: TransWest COO Roxane Perruso; TransWest CEO Bill Miller; Energy Secretary Jennifer Granholm; Rich Voorberg, Siemens Energy North America President; Gregory Todd, Utah Office of Energy Director; James Lester, Colorado Energy Office Advisor; Interior Secretary Deb Haaland; Wyoming Governor Mark Gordon; Dwyane McClinton, Nevada Office of Energy Director; Maury Galbraith, Colorado Electric Transmission Authority Director; Derek Donley, IUOE Western Region Director; and Jeff Neitzel, IBEW 8th District International Representative. Additional key partners (not pictured) are the team from Barnard Wilson Joint Venture, including Tim Barnard, Chairman, Barnard Construction Co., and Don Wilson, CEO of Wilson Construction.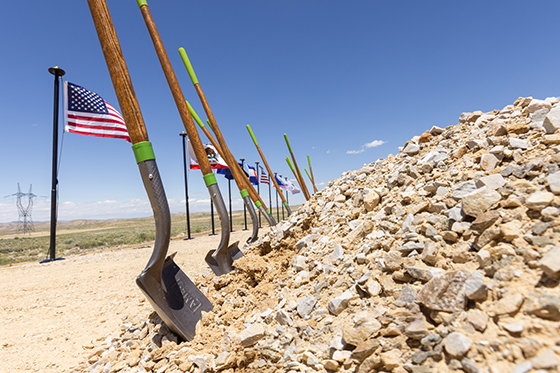 Representing the collaboration among states that led to the TWE Project groundbreaking, flags flying at the ceremony included Wyoming, Colorado, Utah, Nevada and California. As a nod to Wyoming and Western history, the shovels used at the groundbreaking were made by AMES, an American company founded in 1774. The Ames family helped finance the construction of the Union Pacific Railroad, which lies in the same linear corridor as the TWE Project in Wyoming, and Wyoming's well-known Ames Monument honors those visionaries and entrepreneurs. AMES shovels were used to build the Union Pacific Railroad; they were used to build the Interstate Highway System also adjoining the TWE Project; and today they were used to start construction on the TWE Project.

- XXX -

TransWest Express LLC is an affiliate of The Anschutz Corporation, a privately held company that owns and operates a diverse portfolio of investments including those in the natural resources industries. The company is constructing the nation's single largest wind power project and the West's largest high-voltage interregional electric transmission system. For more information on TransWest and the TWE Project, visit www.transwestexpress.net.